Shift Is Happening- 4 Arguments For The Initiation Of Youth
Posted on June 21, 2012 by David Blumenkrantz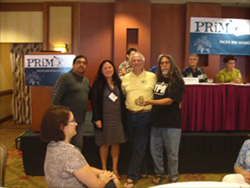 M. Kalani Souza, outgoing IKE Hui Steersperson, officiates the appointment of new co-steerspersons Kesner Flores, Jean Tanimoto, David Blumenkrantz, M. Kalani Souza (left to right), Penny Larin, PRiMO and NOAA Pacific Services Center administrative support is in the foreground.
In the March blog I discussed our work with PRiMO - the Pacific Risk Management Ohana, which is a collaboration of local, national and regional agencies, institutions, organizations and academia. Over the past several years a growing number of federal agencies have begun to recognize the essential value of youth engagement and the role of rites of passage. At the March PRiMO meeting a major shift occurred. The Indigenous Knowledge and the Environment Hui (IKE Hui) chose "youth integration" through the youth and community development through rites of passage framework as its project for 2012-13. It was a great honor to be appointed "Co-steersperson" (chairman) of this distinguished group, along with Kesner Flores, Kapay Allaince and Jean Tanimoto, Pacific Services Center. (more…)
Posted in ROPE
Paradigm Shift Blog
Posted on February 12, 2012 by David Blumenkrantz
[fbls] The
PARADIGM SHIFT
Blog will be launched in Spring 2012. Meanwhile, we invite you to read David's initial blog posts on this website page below. If you would like to be notified when the blog goes live and about new blog posts, please contact us.
February 2012
David G. Blumenkrantz, Ph.D. M.Ed. Paradigm Shift ©
1
A knight returned from battle and went directly to the nursery to see his infant son. Upon entering the nursery he found blood all over. The walls and floor were covered. He ran to the bassinet. A quick look revealed a mass of blood. He looked over at his dog lying in a corner. Over come with grief and anger he took out his sword and slay his dog, figuring it killed his baby. He returned to the bassinet and upon closer inspection saw a wolf lying on top of his infant son. When he lifted the wolf from his son he realized his son was alive. It then came to him that his dog had killed the wolf and saved his son. He had killed the dog that saved his son.
(more…)
Posted in ROPE
Sign Up for Blog & E-News
Please enter your name and email address to receive notices of blog posts, events, and other news. * indicates required.

Read more about Youth & Community Development through Rites of Passage in the new and highly acclaimed book by Dr. David Blumenkranz.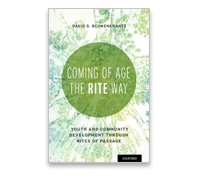 ---
Make A Donation
Support bringing the Rite of Passage Experience™ initiative to today's youth, families and communities.
What I'm Writing About
Recent Posts
Archives
Why This Blog Now?
It't time for a Paradigm Shift – a fundamental change in beliefs, theory and approach – in developing community-centered responses to the challenges faced by today's Youth & Community. More here>>