What If All Real Living is Meeting?
Posted on April 1, 2013 by David Blumenkrantz
A Conversation with Richard Geer, David Isaacs & David Blumenkrantz
Integrating rites of passage into community organizing effects individual, group and community transformation that result in collaborative actions, which support continual adaption. When the Story Bridge process works as an explicit rite of passage, the bedrock wisdom of that ancient human tradition
helps a community move from being a collection of alienated individuals to a cohesive force for committed action. Join the conversation in  
Staging Change Institute – 2 April 25-28, 2013.
(more…)
Posted in ROPE
Sign Up for Blog & E-News
Please enter your name and email address to receive notices of blog posts, events, and other news. * indicates required.

Read more about Youth & Community Development through Rites of Passage in the new and highly acclaimed book by Dr. David Blumenkranz.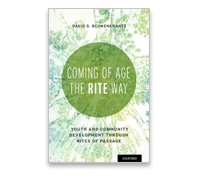 ---
Make A Donation
Support bringing the Rite of Passage Experience™ initiative to today's youth, families and communities.
What I'm Writing About
Recent Posts
Archives
Why This Blog Now?
It't time for a Paradigm Shift – a fundamental change in beliefs, theory and approach – in developing community-centered responses to the challenges faced by today's Youth & Community. More here>>