Wamsutta: An Unwitting Preparation for a Life of Service©
By David G. Blumenkrantz
©2016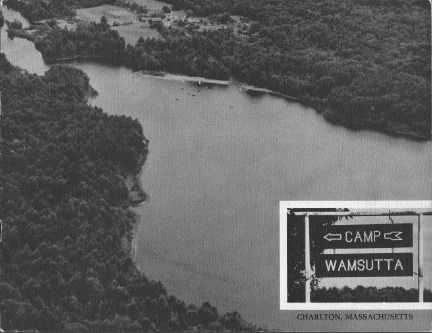 This year marks the 50th anniversary of work, joy and blessings that fulfill the destiny of my ancestors' edict—"Tikkun Olam," repair of the world/universe. I began my ascendance through childhood as a camper, progressed through adolescence as a counselor-in-training/waiter and then a junior counselor, and continued to young adulthood as a counselor and assistant director of camp operations. On this path to adulthood, I unwittingly learned fundamental values and skills that served as a foundation for later lessons and practice in education, youth and human development.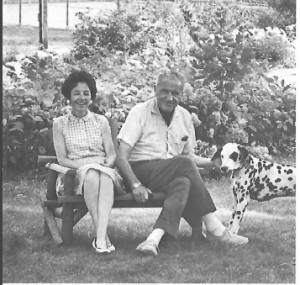 Revisiting the Wamsutta brochure that touted the core values and philosophy of my summer parents, Sam and Leah Sleeper, it became clear to me how summers at Wamsutta were at the center of my development and orientation later in life.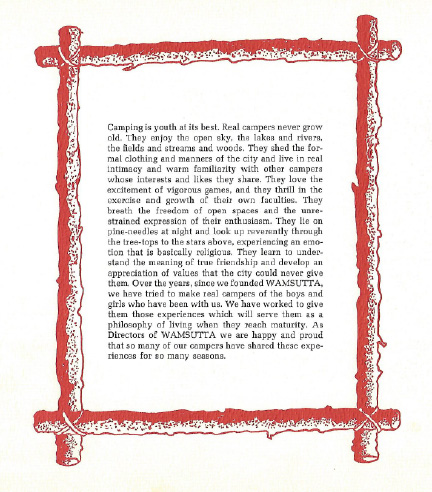 [Photo left: Sam and Leah Sleeper, and camp mascot Major Dooly]


Here is an excerpt from the camp brochure. It begins:

"Camping is youth as its best.…. [The campers] enjoy the open sky, the lakes and rivers, the fields and streams and woods. They shed the formal clothing and manners of the city and live in real intimacy and warm familiarity with other campers whose interest and likes they share. They lie on pine-needles at night and look up reverently through the tree-tops to the stars above, experiencing an emotion that is basically religious. They learn to understand the meaning of true friendship and develop an appreciation of values that the city could never give them."
Over 50 years later, I re-read the "Wamsutta Program." I was awed to find a philosophy that was so ahead of its time. As a society, we still strive and struggle to achieve education and youth development practice that fulfills this promise. The program further noted: "But most important, our youngsters learn to adjust themselves to the art of group living, acquiring independence in being away from home, maturity in coping with their peers, all learned against a background of wholesome, democratic, relaxed environment." Living within a "democratic, relaxed" community environment that included learning the lore of the woods and our deep "religious" connection to it were part of who we were. We weren't playing anything, any role, or any other people's culture of values. We were becoming connected to our authentic selves—being human rather than human's doings.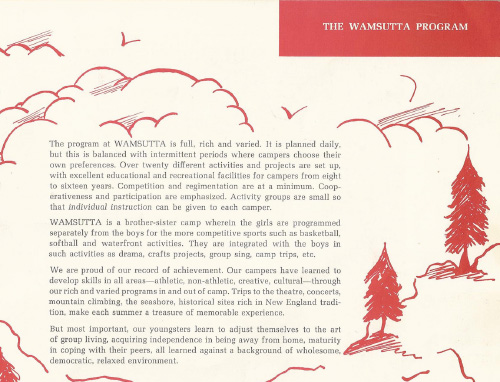 In 1966, I became the junior counselor for the woodlore program. Garrick Beck was the senior counselor. Together we taught the "lore, the knowledge of the woods," as prerequisite for living in balance and connection in our home—nature.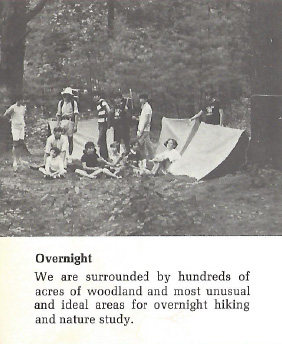 Here we are in our always-leaky canvas tents that brought us deeply into connection with nature, especially when it rained!
As campers became old enough, they shared in the annual camping trip to New Hampshire's Mt. Monadnock. Here's proof of a store on the top of the mountain, circa late '60s, with me in the blue hat.
What began a long time ago, in a wilderness setting that seeped deeply into my life, I came of age the Rite Way in Wamsutta. I am forever indebted to the Sleeper family, the open sky, woods, rivers, lake, fields, streams and friends who taught me the lessons of life, the art of group living, and helped me to mature into the person I have become. "Everything I needed to know I learned in summer camp."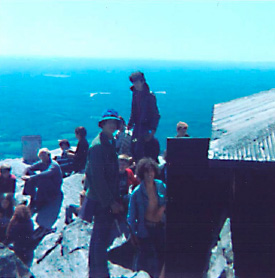 Of sharing the Wamsutta Experience with these men I again saw recently in 2016, and whom I've known since we were children, I say: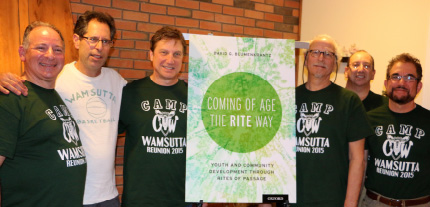 A Decade or More of Shared Life Experience
Five Decades of Developing Lifelong  Friendship
A Lifetime of Behavior, Activities and Benefits that Inspired 
the Rites of Passage Experience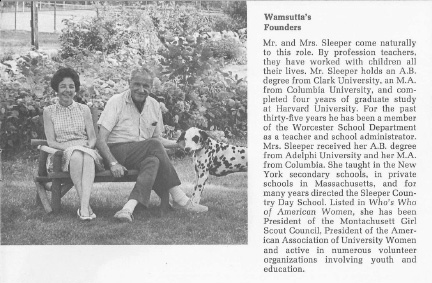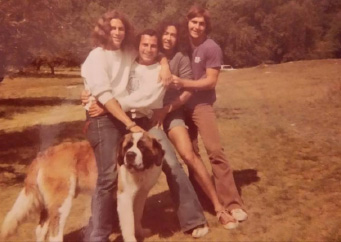 [Photo above: Wamsutta's "Fab Four"
in the early '70s: Baron (the St. Bernard),
myself, Steven Brower, James Diamond,
and Larry Franciose. What a long, strange trip it's been!]