Youth Development Specialists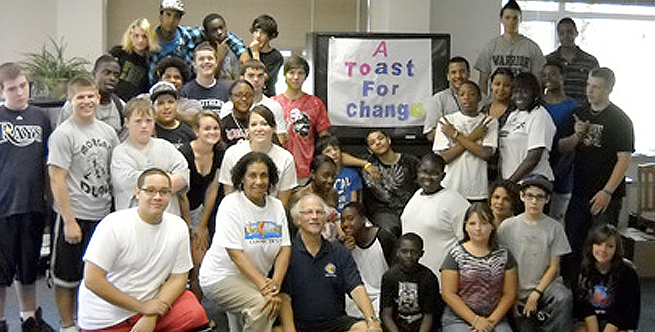 Dr. Blumenkrantz and Center staff join in "A Toast for Change" with 7th and 8th grade students, teachers and mentors from Middletown Public Schools as part of the ROPE® Initiation of Scholars program during the summer of 2010.
Youth Workers, Social Workers, Counselors, Youth and Family Therapist, Behavioral Interventionist, Outreach Worker…


Whatever the name or title of what you do we know how critical you are in the lives of our children. There's a story to share. It's called: Somewhere over the waterfall: A Fable. You will find it familiar.  Here's how it begins:
 Once upon a time (as all good fairy tales should begin), the local community services, the school system, and the state and federal youth-serving agencies were all walking through the woods—
not together, of course.
The cries of young children brought these groups together on the banks of a swiftly running river. All stood gasping at the site of a child caught in the current and plunging over a waterfall.
For more of the story click HERE.
Youth development involves connecting and enhancing environments and building competencies, which promote the positive development of children and youth in their families, in their schools, among their peers in their community and with a strong connection to the natural world. For the "bigger picture", click HERE.

You can't do it alone – You can be a catalyst for making connections and hosting conversations about community-oriented rites of passage as a framework to unify all education and youth development practices.
ARE YOU READY?

Conditions for Readiness
Youth & community development through rites of passage is a whole systems approach to education and youth development that recognizes and puts into practice the view that everything is connected and related.
A community's rite of passage story emerges through civic engagement that builds "social capital," which is what results when people work together to resolve common issues.
We believe that authentic partnerships, forged from trust, mutual respect and honoring diversity across an array of individuals and institutions can support the conditions for principles to inform and guide the emergence of integrated design strategies across the traditional spectrum of service delivery:
Prevention & Health Promotion
Identification & Intervention
Treatment
After-care and ongoing maintenance
Like threads in a tapestry language weaves a common story that links techniques for clinical practice in prevention with identification, treatment and maintenance.
All things are related.
Change the Story – Transform the Future
Language is Consciousness
After almost fifty years of practice we've found out, many times through trial and error, that there are a number of central elements and minimum conditions necessary for the process of learning and co-designing a community-oriented rite of passage. Here are a few:
Resource: Getting to Outcomes® Improving Community-Based Prevention