Educators
Components of the Initiation of Scholars for Educating & Raising Children through rites of passage designs: 
Links to other resources in the community for mentoring and modeling.
Cognitive and experiential group methods that help students identify challenges of adolescence and teach them important life skills.
Focus on the important characteristics of scholar, i.e., interest and inquiry, investigation and study, learning and the application of learning in school to society.
Individual student planning to guide them on their pathway towards becoming a scholar.
Student group support for academic success.
Links to classroom teachers to connect homework and study activities to enrichment activities, especially in organized after-school programs like 2st Century Community Learning Centers.
Programming that supports parenting for student progress. This helps coach parents to increase their capacity to aid their child's academic progress.
Focus on the health-promoting benefits of play and guides students to understand the importance of finding recreational activities as an essential ingredient in a healthy lifestyle.
When students make a commitment to becoming a "Scholar" the entire climate of your school changes.
INITIATION OF SCHOLARS CEREMONY OF COMMITMENT
During a culminating community ceremony with family and others the principal or other adult dignitary, leads students in a pledge to dedicate them to become good students. Students put their right hand over their heart and raise their left hand and repeat after the Elder:
 "I ( SAY NAME ) know that my education is one of the most important things in my life. With an education I can do anything in the world that I want. In order to get a good education I have to be a good student.
 With these truths I pledge to do my best in school, follow the rules, help others, be respectful to teachers, my fellow students and myself.
 Today I pledge to continue on the road to being a scholar."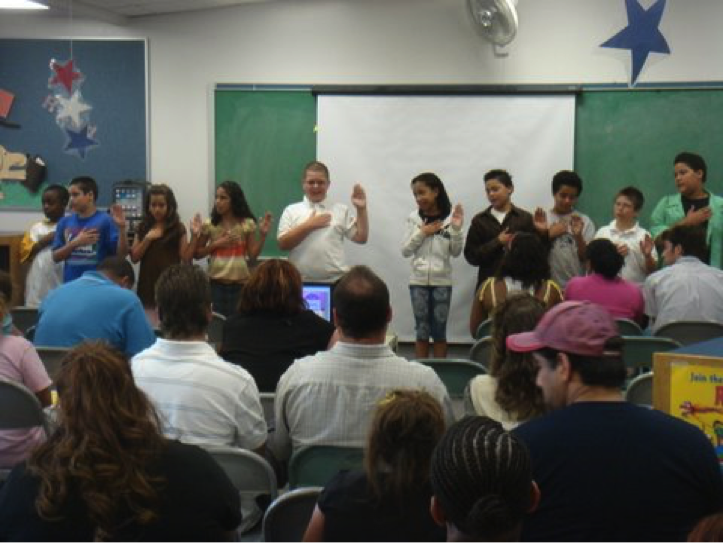 The celebration of a rite of passage is renewing for the entire community. A child's public expression of and commitment to a community's values, attitudes and beliefs reinforces those important elements for the entire community. A child's coming of age presents an opportunity for the whole community to examine and re-commit themselves to their social and cultural heritage. In this light we say, "It takes a whole child to raise a village."[1]
Read about additional scholar success stories: Middletown Case Study
Read "Rites of Passage in a World that is Not Flat", by Dr. Blumenkrantz. Find out why it's time to focus on "raising children" instead of just "raising test scores."
Community Organizing Conversations
Rite Of Passage Experience© ROPE®
Initiation of Scholars©®[2]

This session focuses on issues related to trust, friendships and what children and youth need to grow up well. It uses experiential activities for students to explore issues related to friendship and trust detailed in Session 5 of ROPE®. The Rite Of Passage Experience©®.
Group discussions are the primary way students learn. During ROPE® and the Initiation of Scholars students have an opportunity to learn and practice the art of conversation. This session provides another, more focused opportunity for these important lessons.
Using principles from the World Café this session explores questions that matter, especially for children and youth; "What does it take for children and youth to grow up well?" What would we be doing when all our children were growing up well?" What are we doing as a school when we educate students as scholars?" "What does growing up well mean?" "What do communities need to do to help youth grow up well? What are other questions that matter that can focus attention on helping youth come of age grow up well?" These questions and other related questions could serve as a foundation for the introduction and discussion of Developmental Assets and other relevant youth and community development topics.
---
[1] From: D.B. Blumenkrantz, (1986)
[2] The Rite of Passage Experience© ® - Initiation of Scholars©® and ROPE® are copyrighted (1991, 1988, 1998, 2008) and federally registered trademarks of David Blumenkrantz licensed to The Center for the Advancement of Youth, Family and Community Services, Inc.