The Busyness of Raising Children: Are we nourishing the lives of our children?©
Posted on March 3, 2014 by David Blumenkrantz
Language is consciousness.
The Swedish word for business is närings – liv. It means nourishment for life or nurturing life. In English the word business means "to be busy" - "a state of being much occupied or engaged", or "what one is about at the moment," (comes from bisignes in Old English 1).
What are we about in every moment we are in the "business" of education and child development? Yes, business. What has happened over the past 100 years is a burgeoning of business (busy-ness) in education and youth development which some have termed the "child industrial complex"… a far cry from the idea of business as "nourishing life."
Posted in ROPE
Sign Up for Blog & E-News
Please enter your name and email address to receive notices of blog posts, events, and other news. * indicates required.

Read more about Youth & Community Development through Rites of Passage in the new and highly acclaimed book by Dr. David Blumenkranz.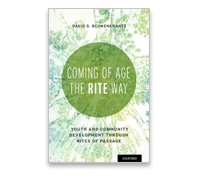 ---
Make A Donation
Support bringing the Rite of Passage Experience™ initiative to today's youth, families and communities.
What I'm Writing About
Recent Posts
Archives
Why This Blog Now?
It't time for a Paradigm Shift – a fundamental change in beliefs, theory and approach – in developing community-centered responses to the challenges faced by today's Youth & Community. More here>>