50,000 Years of Evolutionary Evidence for Coming of Age the RITE Way
Posted on June 4, 2015 by David Blumenkrantz
The conversation continues – June 9, 2015 @ 2:30 EST
.
At the Alternative Education Resource Organization (AERO) conference a few weeks ago David Blumenkrantz and Jen Mendez collaborated to host and convene a conversation on "Rites of Passage in Educational Design."
(more…)
Posted in Uncategorized
Sign Up for Blog & E-News
Please enter your name and email address to receive notices of blog posts, events, and other news. * indicates required.

Read more about Youth & Community Development through Rites of Passage in the new and highly acclaimed book by Dr. David Blumenkranz.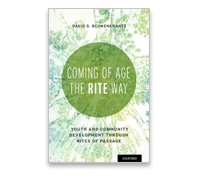 ---
Make A Donation
Support bringing the Rite of Passage Experience™ initiative to today's youth, families and communities.
What I'm Writing About
Recent Posts
Archives
Why This Blog Now?
It't time for a Paradigm Shift – a fundamental change in beliefs, theory and approach – in developing community-centered responses to the challenges faced by today's Youth & Community. More here>>