A Recognized Success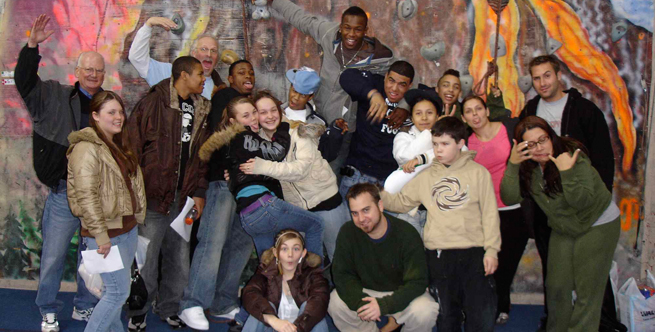 Since its inception in 1981, the Rite of Passage Experience© initiative has proved effective in promoting youth development and leadership, in building a sense of community, and in increasing a community's capacities to collaborate on behalf of their children and teens. Over 100,000 youth and their families have participated in ROPE® in both small towns and large cities across the United States and Canada.
The success of this initiative has been recognized by a number of national and regional organizations, including:
- Child Welfare League of America
- National League of Cities
- Connecticut Youth Services Association
- State of Connecticut Office of Policy & Management.
PROVEN EFFECTIVE
ROPE® has also received consistently high evaluations from teens, parents/guardians and educators alike in research studies over the years. A review of 15 years of student and parent evaluations of ROPE® revealed the following:
THE WORD FROM STUDENTS
86% of students ranked their overall enjoyment of ROPE® as 4 or 5 on a scale of 1 to 5
94% thought all sixth graders should have a ROPE® experience
THE WORD FROM PARENTS/GUARDIANS
68% of parents/guardians rated their children's reactions to the program as 5 (very positive) on a scale of 1 to 5
75% stated ROPE® increased their child's self confidence
55% indicated that ROPE® increased their child's personal insights
58% declared that ROPE® helped their child cope with the problems of adolescence
62% judged that ROPE® will ease their child's transition from sixth grade to middle school
83% ranked ROPE® as "highly valuable" for their child
93% wanted ROPE® to continue in their school
COMMUNITIES ALSO VALUE ROPE®
A three-year study among ten different communities with ROPE® initiatives found that 80% of those communities were continuing with their ROPE® initiatives three years after state funding had expired. In that same study, the participants reported that ROPE®:
Served as a vehicle to mobilize and bring communities together on behalf of their children
Offered children a healthy path to adulthood
Gave adults in the community a viable and productive way to be helpful in the lives of their community's children
Empowered communities to take responsibility for helping their children
Increased the amount of money the community spent on children
To discover how ROPE® can make a positive difference in your family, school, and community, please contact TheCenter@rope.org. Also, visit our Testimonials page to read what the community has said about their rites of passage experiences.