Atlantic Health Systems
Posted on October 6, 2015 by David Blumenkrantz
Empowering Adaptable Communities the Rite Way!
AWARD FINALIST
The Center for Youth & Community, Inc. is a finalist for the 2015 Innovative Idea Awards for their youth & community development through rites of passage community organizing process.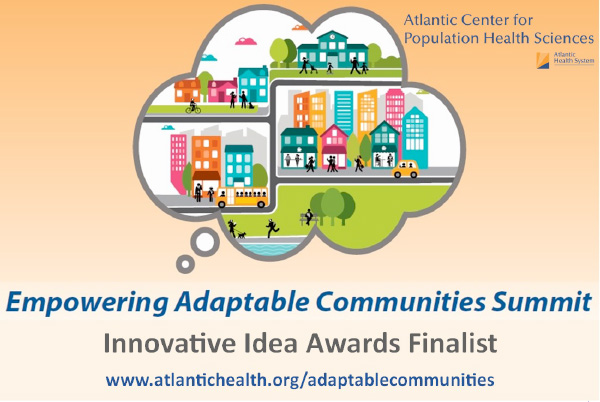 On October 21-22, I will be presenting our work about community-oriented rites of passage at the Empowering Adaptable Communities Summit as part of the Innovative Idea Award process.
From Atlantic Health Systems:
The Empowering Adaptable Communities Summit is an interactive, multidisciplinary event held on October 21st and 22nd at the College of St. Elizabeth in Morristown, NJ. I will be joining with other thought leaders to address the question, "How can we work together to build more adaptable communities?" Participants will build new connections, learn from nationally recognized experts, and leave empowered to act.
Featured speakers include Nicholas Kristof (New York Times), Thomas LaVeist (Johns Hopkins), Anita Chandra (RAND Corporation), Lisa Orloff (World Cares Center), Stephen and Elizabeth Alderman (The Peter Alderman Foundation), Tom Wolff (Tom Wolff and Associates), David Blumenkrantz (Center for Youth & Community) and many more. 
Rites of Passage – Central to Culture & Community Survival
My address will be: "Empowering Adaptable Communities the Rite Way: Youth & Community Development through Rites of Passage." It will point out the 70,000 year history of ritual in general and central purpose of rites of passage to strengthen a culture and community's resiliency and ability to adapt. It explores how adolescents are perfectly designed by nature, with their "adaptive brain" to be our species central asset in assisting adaptation. 
The latest neuroscience on the teenage brain, recently labeled the "adaptive brain," affirmed what we all know. Adolescents see the world differently. They are uniquely able to perceive the world in creative ways providing unforeseen solutions to persistent problems. This innate capacity is specifically designed to challenge adults' ways of thinking in order to help us adapt to a changing environment. Adolescent's challenging curiosity serves our survival. That may be of little comfort for parents of adolescents!
In evolutionary biology terms a portion of adolescent behaviors are purposeful. Rather than diagnosing and label adolescent behavior as "oppositional defiant" or declaring war on teen drug use we reframe and repurpose these as part of the initiatory process. This is all within a community's "story" of rites of passage as central to the way they educate and help children come of age. When we get our story rite we get our future right! 
Well, maybe not everything!
But, through the process of a community-oriented rite of passage what teenagers do know will become an asset and part of a community's process of adaptation, leading to its health and survival.
I hope to visit with you in New Jersey in a few weeks.
For more information and to register for this event, please go to atlantichealth.org/adaptablecommunities.
Posted in ROPE